Sometimes happens that you find the right store when your favorite has already been sold. And it is not possible to get it anywhere else. You don't have to despair here, because you've come to the right weaver who you can talk to and plan with. You can't get exactly the same thing again, because it's not a factory. But in terms of mood and colors, a new rug or plaid can be quite similar. If you have a little time and patience
Big scarf "Breaking the Laxwaters" 150 x 62cm / 59 x 24,5 in + fringes and a happy customer
Warm and soft scarf woven with industrial yarn endings. Adds blush to winter evenings and remembers you need to eat more fish, especially lax
Big scarf "Dark blue & pink" 62 x 200cm plus fringes

Keeping cold winterair away from your cheeks. Darkblue tweedyarn and rosypink weft garanties ladies beautiful complexion and protects from tough wind, hat is not so much needed. Efficient, yet soft.
Big scarf "Dark blue & orange" 62 x 270cm plus fringes
Winter is still with us, good new scarf is always needed. Dark blue tweed yarn and lively orange, beige and green softy loomknitted big scarf needs no hat and keeps wind away. Wearing this, you will not be noticed!

Rug "Walking on hot coals" Double-wefted rug 66 x 202 cm / 26 x 80 in

Heavy and thick and floor hugging rug. The black side is woven of old Soviet era fishnets cut into strips. Fishnet is massageing footsoles and gives strenght and heavyness to rug. Rug is colurful and briskly dramatic, coalpath is glowing brightly. Walking by this warms feet and soul and surrounding atmosphere. These who never tried coalwalking get their chance now. Success granted!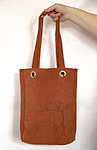 Panther Mushroom Punched Leather Tote 16 x 13 in/33x40cm, straps 65cm
Soviet vintage calf leather holds form and punchholes stabile. Probably can use use this bag till the end of your life
"Old-Time-Story" double-wefted rug 66 x 177 cm

I wanted to weave a rug, what looked like a granny made it, but yet be brand new. I did it! All these washed-off tones, coloured stripes and squares at the edges. Double-weft gives strength and thickness. If you need a rug, what looks like it`s been there since your countryhouse has built, you got it! And this overall darkish-red tone, what grandma would approve - general soiling is not noticeable. Countryhouse - be ready for brand new old rug!

"Spring. Inner glow" I with a happy customer
Handwoven 100% wool twill throw
130 cm x 180 cm / 51 in x 71 in + fringe, weight 840 g
Moderately large and not very thick wool throw
In some days The Famous Inner Glow will not reveal itself. But not in spring. It breaks through. It gives you all kinds of sweet promises. It is feminine and attractive. The tones are muted and neutral nude, but they bring out that special feminine inner glow. Matriarchy will return, and soon, believe it!
Rug "Walking On Air"
100 x 220 cm/39 x 87 in
Recycled textiles. Twill rug, rather heavy and thick
Sometimes before a thunderstorm, the air is thick with electricity and lack of oxygen. It feels like you can levitate towards the horizon - carried by that thick, heavy air. On that journey, there are different scents and streams. The clouds are getting closer everything starts to feel greener.
But it is still summer and the next morning everything is different.

Small double-sided rug "Winter Fly"

Handwoven rug 53 x 90 cm/ 21 x 35,5 in
Handwoven rug from recycled textiles. For specialists to know -
shaft switching
method was used, or you can call it "
summer-winter"
rug or double-sided
Smallish and light, but outstanding double-sided rag rug. Candy for your eyes!
I used on weaving ethnographic pattern for mittens, so it is full of ancient-time thoughts
Rug "Chicory Root Plantation"

Handwoven rug 68 x 150 cm/ 27 x 59 in.
Made from recycled denim and cotton. Scandi-pop rug. No fringe
A long time ago when people used to drink chicory root coffee, it was growing plentifully. Besides from the roots being valuable, the plants had beautiful sky blue flowers. Naturally, they are beautiful now as well, we just see them less often. I have heard they still grow in one spot by lake Peipus. So pull on your jeans and head out to frolic in those waist-high blue petals! Flat, thickly woven rug. Fits in a washing machine for cleaning.

Rug "On the river of Oblivion"
Handwoven rug 80 x 265 cm/31 x 104,5 in
Made from cotton and recycled textiles. Double-sided rug. No fringe
Extremely thick and heavy rug. Makes all cold floors warm again.
When I was weaving this rug I could clearly see the cold shores with a bit of frozen soil, fallen leaves and the bend in a river like a lone petal - beyond which stood The Bridge that Time was building.
In the end, all of that fit on the rug, apart from The River itself.
Rug "Arrive Secretly as Wave"
Handwoven rug 86 x 160 cm/33 x 63 in Made from recycled textiles. Double-sided rug. No fringe
Effective warm-keeper and very thick mat-like rug

Every wave is born in the deep depths of the ocean. No light and no fish. Moving up light and shadow are introduced. A flash of a school of fish, the edge of a silvery wave, foam... and everything starts again. The next wave is coming in.